Many netbooks available in the market are not equipped with CD / DVD ROM, so sometimes we have trouble when we attempt to do Windows re-installation. To overcome this problem we can perform the installation through the bootable USB.
There are several advantages when installing Windows from USB – installation process will run much faster compared to CD / DVD's installation. In addition, the CD / DVD are prone to scratches that can lead to failure when the installation process is running.
To create a bootable USB, you can use freeware tools below.
WinToFlash
WinToFlash transfer is software for your Windows XP, Windows 2003, Windows Vista, Windows 2008, Windows 7, Windows 8 Setup from CD or DVD to the USB in some mouse clicks. This is about you can install your Windows from a flash drive or card, HDD, etc.  to your computer or netbook.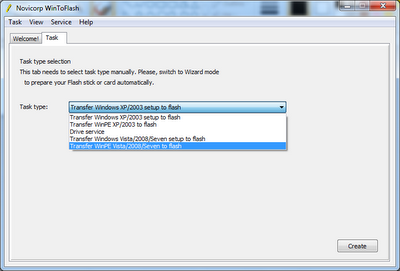 System requirements :
Pentium 233-megahertz (MHz) processor or faster

At least 64 megabytes (MB) of RAM

At least 20 megabytes (MB) of available space on the hard disk

Keyboard and a Microsoft Mouse or some other compatible pointing device

Video adapter and monitor with Super VGA (800 x 600) or higher resolution

Windows XP/2003/Vista/2008/7/8
You can download this utility from http://wintoflash.com/download/en/
WinUSB Maker
WinUSB Maker, is a tool to make dynamically any removable devices / external HDD as bootable with Windows setup.
Features:
Drive faster full backup / restore, Including the MBR, the user can the make an full backup of the USB Drive Including the MBR Boot Sector, and all stored files

Totally coded with maximum security, to avoid any error, With the Protection Platform, is never allowed the current format of the Windows Drive

Can work with DVD Setup / Setup Folder / ISO Image Setup

Always format in NTFS System, make the same device as the boot sector of HDD

Force Dismount for all devices, forcing the format if the device is in use

Can make a DOS / grldr automated USB Bootable Disk

Fastest file copy, maximum priority level process

Identify compatible setup folders

Support devices larger than 1TB

Capture only removable devices

Refresh all devices in one click

Auto-explain the functions if the cursor is drawn

Check the Device Folder and size, for better compatibility

Dynamic Progress Bar and specific File / Folder / Status shown for works

BIOS / EFI of the computer always Recognize the USB HDD as Bootable, needed only the make the boot for it
. NET Framework v4.0 is required

DOS bootable disk formatted in FAT32 Filesystem always

Drive will restore format with NTFS filesystem, remove all partitions without
Homepage :
http://download.joshcellsoftwares.com/WinUSBMaker
Windows 7 SBB Tool 1.3
The Windows 7 SBB Tool allows you to select any removable device and make a Windows 7 Booter. Although commonly used for USB, it can be used for SD cards as well, as long as your BIOS supports it! Quickly make a bootable Windows 7 USB device using this small utility.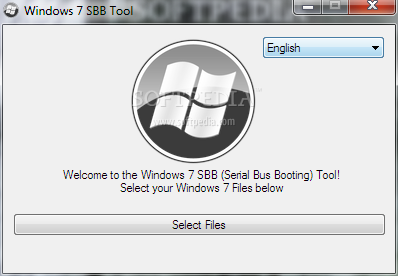 Requirements:
Download from Softpedia :
http://www.softpedia.com/get/System/Boot-Manager-Disk/Windows-7-SBB-Tool.shtml
Passcape ISO Burner
Passcape ISO Burner was developed for creating bootable disks from ISO images available. PIB is compatible with the majority of CD / DVD recorders and USB devices, (including Memory Stick, Compact Flash, SmartMedia, Secure Digital, USB flash drives, USB ZIP drives, USB Hard Disk drives, etc.) The application's Spartan interface is the ultimate -simple and oriented toward the inexperienced user.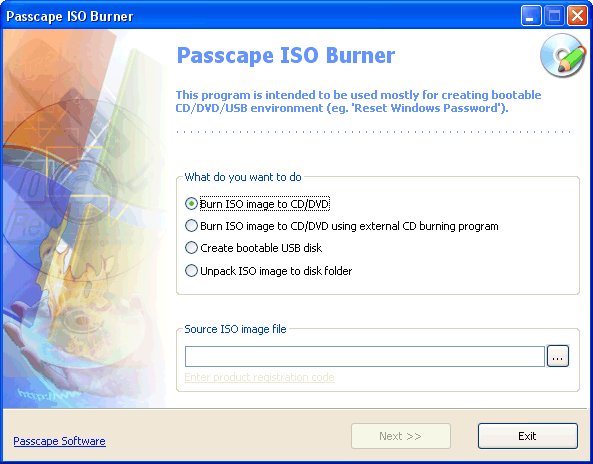 Features
Write ISO image to CD / DVD or USB disk;

Create bootable disks (including USB ones) from ISO images;

Extract ISO images to disk;

Simple user interface;

No installation required, the program does not write anything to your hard disk or registry
Homepage :
http://www.passcape.com/passcape_iso_burner
A Bootable USB
A small, compact and portable utility exclusively from AskVG the which creates a bootable USB drive to install Windows Vista, Server 2008 or 7.
Prerequisites:
A USB Drive (4 GB or more)

Windows Vista, Server 2008 or 7 ISO image or DVD

Host OS: Windows Vista (SP1 or SP2), Server 2008 or 7
Homepage :
http://www.askvg.com/a-bootable-usb-utility-to-create-bootable-usb-drive-to-install-windows-vista-server-2008-and-7/